For today's MANICure Monday I decided to do something a bit different; Instead of simply posting my manicure this week, I will be reviewing a nail club called Julep Maven.
Basically Julep Maven (also simply known as Julep) is a subscription service for nail polish, nail products and a few other beauty items.  To join, you complete a style survey which is used to categorize you into one of their three profiles upon which your Julep monthly subscription selections are based.  The monthly fee is $19.99, however you may opt out for as many months as you like (there is not a purchase requirement).  If you do not opt out during the alotted days, you are billed $19.99 for the monthly box which normally includes two polishes and one non-polish product.  There are no additional shipping and handling fees.
So far, I have received 5 Julep Maven boxes and opted out of one month and I have been nothing but pleased.  The polishes are sastifactory but the non-polish products impress me each and every time.  Anywhoo, I recorded a video showing you all the Julep Maven products I own thus far and describing the service in more detail.  To sign up, click here. You can receive your first box for just ONE PENNY ($0.01) using promo code:  COLOR2012.  Disclosure:  I am not being paid for this post, but do receive Jules (points) which can be redeemed for Julep Maven products.
If you follow me on Instagram (@EbonyCPrincess) then you have seen my weekly manicures.  This week, I decided to paint my nails with "Trina" a deep shimmery purple that I absolutely LOVE!
Julep Maven "Trina"
(with and without flash)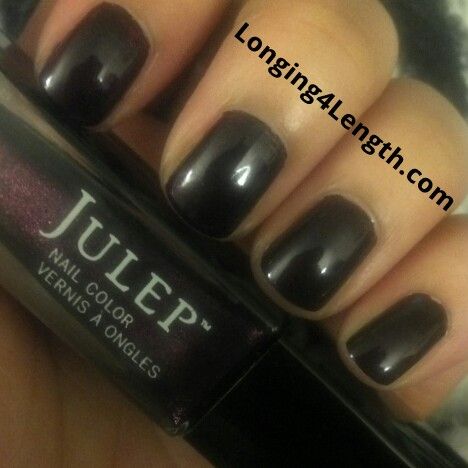 Have you linked up with LA Lynn's and Lipgloss & Binky for MANICure Monday's yet?  I know I've been rather boring with my manicures lately but in my defense, I had two nails break this week so I decided to cut them all down.  And nothing is worse than busy nail art on nails that are too short to display it properly!  So, instead I hope you enjoyed my review of Julep Maven.