Warning:  Anytime I am sent something to review, I feel obligated to give a very thorough assessment – which in my case usually means long! lol.  In an effort to be as detailed as possible this post is a little wordy, extremely lengthy and a bit pic heavy.  Hopefully you will appreciate the comprehensive review despite that!
The Packaging. I was sent this iron to review from Misikko a couple of weeks ago.  First let me just say that if you are a packaging fanatic then Misikkois the place to shop; If you have ever read or seen anyone else's review on the Hana Titanium Ionic Flat Iron then you are already familiar.  Misikko sends you not only the iron, but a bunch of goodies – sleep mask, thermal pouch, ELF eyeshadows and lash curler, just to name a few.  It is all laid out very prettily in the box.  Although I am not a package-fanatic as I've seen some ladies are, the way in which the iron is sent to you is cute and it definitely makes the product seem more special.  From my understanding (yes, I asked to be clear for you ladies), every purchased iron arrives the same way…not only those that are given away for reviews.  So if you do love cute packaging then this is right up your alley!
The Shipping:  The iron was shipped via UPS, Misikko supplied a tracking # and it arrived in 2 days.
The iron. It is made of a pure ceramic heating element, with the top layers being pure titanium.  There is no coating on the iron. I called Misikko for clarification because the description is  confusing saying 100% Pure Ceramic with Titanium, but also Pure Titanium Plates.  They are not being deceptive, its just a little difficult to understand.  I've created a diagram to help you visualize exactly what I mean.
The heating element is inside the flat iron while the plates are on top.
While preparing to give this review, I was inspired to learn the difference between ceramic and titanium.  For your knowledge, I wrote an article on BHI that explains it very clearly which will be posted later in the month.  Briefly, ceramic is known to heat evenly and emit negative ions, so all ceramic and titanium flat irons are in fact ionic.  Hair is positively charged due to its water content so coating it with a negative charge neutralizes it and in theory results in smoother, less frizzy, shinier hair.  Titanium, however, heats even more evenly and faster than ceramic.  Also this iron has tourmaline, which means that tourmaline crystals are infused into the titanium plates emitting a large amount of negative ions (more than ceramic or titanium alone) and therefore will straighten the hair better.  Be on the look out for my upcoming article for more detail.
I showed you in my recent haul video where the ceramic coat was chipping on my FHI Platform Iron.  I actually was surprised when this happened because I distinctly remember researching flat irons before asking for this one for Christmas and seeing on the FHI website that this iron was PURE ceramic plates, no coating.  Now I have discovered that is only true of the more expensive model, the FHI Runway.  So you have to be careful when purchasing an iron that you are actually getting what you think you are paying for! The fact that this iron does not have any coating and is comprised of pure ceramic and titanium is a plus for me.  Not only does that mean no chipping which can potentially harm your hair, it also means that the plates will heat evenly and the heat will be transferred to your hair diffusely, without any overheated or cold spots.  This should give you consistent, smooth results.
The appearance of the plates are very cool.  They look like a perfect mirror, nice and shiny!  I must say that although I am not one to be overwhelmed by packaging, the shininess of the cool metal made me giddy with excitement!  I demonstrate how I used the iron on my 3/4 wig from Tonsure Hair in the below video if you would like to see it in action:
I also flat ironed my roots following a rollerset to see how it felt on my own hair, not just how it performed on the wig.  The pictures do not really show much to be honest, but I have included them to satisfy your curiosity.  My roots were not pin-straight but that was my intention.  You guys know I don't like very straight hair so I only set the temperature to  300°F.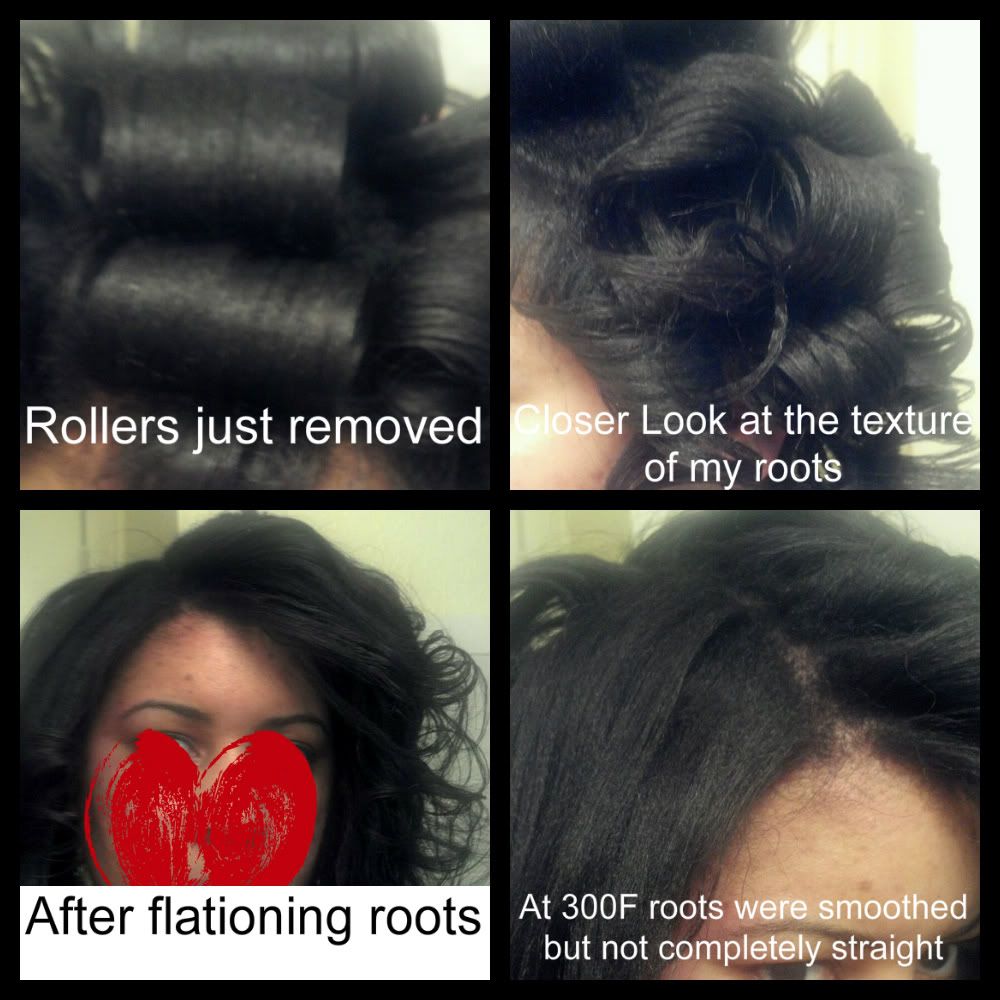 The Plates:
  I already said the plates are hi-tech looking and being mirrored, should be easy to clean.  I have to say that the plates felt exceptionally smooth on my hair, much more than my FHI iron – which I never had any complaints about, but now feels a little inadequate.  This could be because of my excitement over the apparent "upgrade" to a titanium iron, my disappointment over the chipping, or it may actually be true, lol!  The plates definitely glided along my roots very easily.
Features:  The size is a plus for me also.  I was actually thinking about purchasing a larger 2″ iron before Misikko contacted me, but I held off because I wasn't sure if I would still be able to curl and flip with that size.  1.5″ plates seem like the perfect "in between" size.  I was able to straighten my wig very quickly and because of the beveled edges you can add as much or as little curl as you want.  I only bent the bottom layer as you can see in the video, but was also able to make more curl on the upper layers.
It heats up extremely quickly, at a 300°F setting it only took about 20 seconds and I timed it for accuracy.  The iron has an indicator light that blinks while heating but remains steady when at the requested temperature.  The adjustable temperature is a big deal for me too because I find that my hair actually straightens best at temperatures below 400°F, while the weave straightened best at 425°F.  On my real hair I always like to use as little heat as possible to get the job done.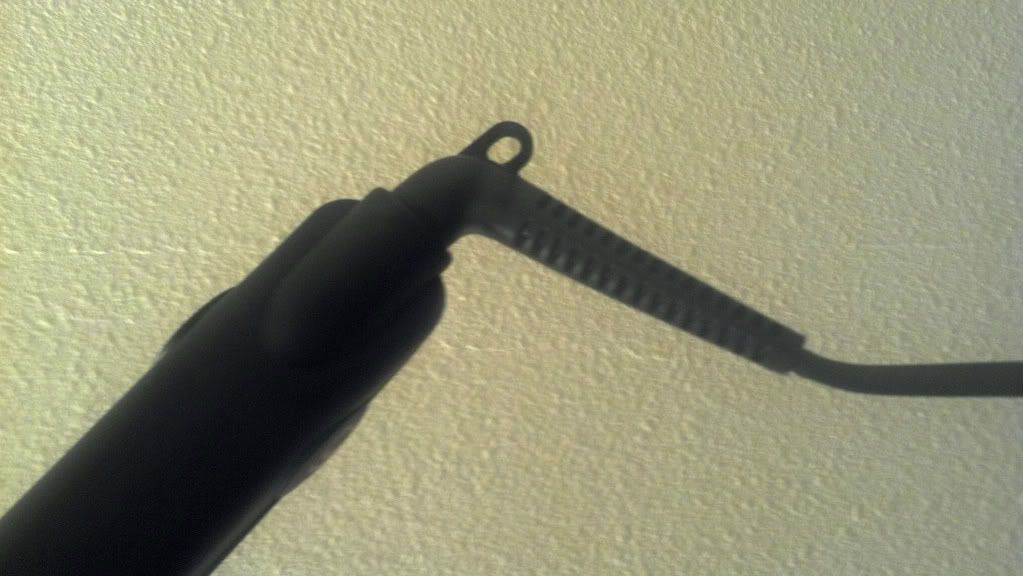 It does have a 360° swivel cord BUT the part that connects the cord to the iron is a rectangular rubber piece that is not very flexible.  So while the cord does indeed swivel, this design makes it not as easy to navigate as some other 360° cords.  Not a huge deal for me, but worth mentioning for the sake of being thorough.  Some may actually prefer this extra protection on the cord to ensure that it won't fray over time as many do, because I can say that it feels stronger than most cords.
The only "con" I can say is really missing from this iron is an automatic shut off.  I am notorious for forgetting to turn my irons off.  ALL irons – clothes, curling, flat…whatever!  So I typically look for this feature when buying any of the aforementioned.  I actually did forget to turn this off and when I went back into the bathroom to give a final look before leaving home, I realized I hadn't turned it off.  I do this with my hair tools more often then I care to admit – in my head I'm always thinking "let me leave it plugged up in case there is something out of place I want to fix before I leave" and then I forget to come back and turn it off.
You, however, may not have that issue!
Overall.  Because my previous iron began to chip, I was already considering purchasing a new iron.  I had been holding off few a few reasons.  One, I don't use direct heat that often.  Two, my hair thrives most when not using direct heat very often.  For these reasons, I could not justify purchasing an expensive new tool that I wouldn't and shouldn't use regularly.  Three, I dreaded doing the research to decide which tool would be the best purchase.  However, the Hana Titanium Ionic Iron was definitely in the running because of the review given here.  Tanya's results were gorgeous and seeing is believing.  Even if you aren't interested in this iron, click on her link to see some amazing hair porn!
After receiving and using, I would recommend the Hana Titanium Ionic Flat Iron.  It straightened my weave and my roots well.  I also feel it has less potential to be damaging than many other irons on the market because of the smoothness of the plates and the superior materials (pure plates, Titanium and Tourmaline).  The price is $174.99 with free shipping and they usually have promo codes on their site and send via their mailing list.
To see and purchase the flat iron: