With all the emphasis on heat-free and low manipulation styling – many of us rely on styles with texture, body, and/or curl for our go-to looks.  That being said, often times when we hair growers decide to "treat" ourselves to wearing our hair straight and down, I've noticed many of us can only tolerate straight hair for a short period of time before getting bored.  This just happened to me!  After seeing my hair for the first time in over 3 months (I was weaved up) I got to see the full length and show it off…but after about 2 days I felt it looked lifeless and boring!  So I pulled out my caruso steam roller set (one of my best hair tools of all times) and created this look for a night out…I LOVE MY CARUSO!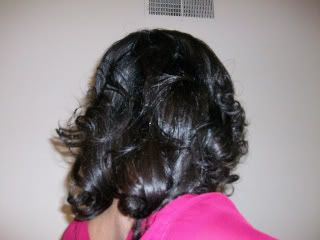 In case you happen to be unfamiliar with the Caruso Steam Rollers, they are a heat free curling system that uses water vapor to heat sponge rollers which create long lasting pretty curls without any damage being done to your tresses.  They are good for all hair types, thick or thin, coarse or fine, long or short, relaxed or natural.
P.S.  I absolutely love the back detailing on this shirt….I think it adds such a chic element to an otherwise basic embellished silk top.  BCBG on clearance $25!  SCORE!