Happy Breast Cancer Awareness Month!
I am super excited to introduce my friend and soror,

 

Lamesha I.  Mesha and I met through my cousins at a BBQ and immediately hit it off.  She complimented the feather earrings I was wearing that day and my cousin exclaimed "You know she makes jewelry!!!!  Stuff like that, you'd like it!"  Lol.  And of course we talked hair (Mesha is natural) and she became a follower of L4L that day.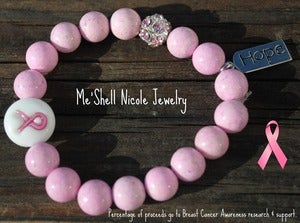 Mesha is a corporate professional who has a flair for designing fashionable yet classy jewelry.  In order to honor her grandmother who lost her battle to breast cancer in 2007, she created a collection called Pink for Barbara.  Every piece in the collection is of course pink and a portion of the proceeds will be donated to

 

The Sisters Network, Inc

 

which is an organization dedicated to assisting African American sisters who are afflicted with breast cancer as well as to help raise awareness in our community.
Read my small interview with LaMesha of Me'Shell Nicole Jewelry below: 
Q:  What is your full time job?
A:  Well, I have a master's degree in business management.  But I also teach and am a

  

coordinator for communications.
Q:  Wow!  So how do you find the time to design jewelry?
A:  (laughs) I make the time girl!  It is actually like therapy for me, I really like the whole creative process of sitting down with my tools, beads and things.  Designing and creating relaxes me so I just fit it in when I can, usually during the evenings.  I actually pray over my jewelry, during the entire process, that each piece [not just the Pink for Barbara] will find the owner well and be a blessing to them.
(Sidenote:  Mesha was hesitant at first to share that piece of info because most jewelry designers DON'T include such a special part in their creative process.  I thought WE LOVE JESUS here and that bit of info only makes me admire her even more!)
Q:  Where did your inspiration for the Pink for Barbara Collection come from?
A:  My grandmother who passed in 2007.  I remember looking at some of her medical bills and was

 

shocked over the thousands of dollars accumulated through her medical expenses.  I felt compelled to do my part to help assist women who are facing the same situation as she did.  With my jewelry, women will be reminded to honor those who lost the battle and it represents the women who are still fighting this disease.  I call it fighting for a cure stylishly!
Q:  How did you find out about the Sisters Network, Inc and what made you choose them?
A:  I did a little research and there are many organizations out there for the same cause.  I chose a Sisters Network because they work specifically within the African American community and aid those who need assistance in various ways.  For example they provide transportation to and from doctor's appointments, and furnish the co-pays for some women.  That is the type of help we need.
Q:  How do you come up with your different designs?
A:  Colors and different trends sometimes; When I see something I think is cute, I challenge myself to put my own spin on it.  A lot of times trendier jewelry isn't appropriate for the everyday woman and I wanted to create pieces that were fashionable, but classy.  My jewelry can be worn to work, on a date or out for drinks!
Q:  Lastly, I am excited to be collaborating with my sorority sister!  We are always at the forefront of service!  Thank you so much for introducing me to your line of jewelry.  Is there anything else you would like my lovely Longing4Length

readers to know?
A:  Just thank you for supporting the project.  Your support will definitely be a blessing to women of the Sisters Network.
Thank you Mesha, for suggesting I introduce your special collection through my blog. This is definitely a worthy cause and I am happy to support and I hope you ladies will also.
Ladies, you know I only do giveaways and introduce things I actually believe in and believe will be a blessing to you.  LaMesha's project is something I am all too happy to support.  So, in that spirit one lucky reader will receive the

 

Wanda Bracelet

, an elegant pearl bracelet with a small pink ribbon charm.  Pearls are a favorite of mine (wink!) and can be worn with pretty much anything.  It will feel nice wearing a classic piece knowing that you played a small role in helping breast cancer victims continue to fight, as well as honor those who have lost their battle.  To enter, please just leave a comment that includes "Enter Me" below.  Giveaway will end at the conclusion of Breast Cancer Awareness Month, 10/31/2011.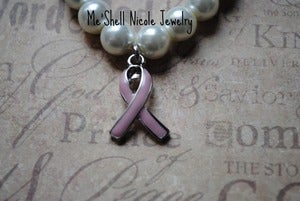 Disclaimer:  I am not being sponsored or paid by Me'Shell Nicole Jewelry.  I am purchasing this bracelet with my own money to be a blessing to one lucky reader and to do my part in fighting breast cancer.