For the OG's of following my hair journey you may remember from my review that the one moisturizer I did not care for from the Bee Mine line was the Juicy Spritz.  I tried it back in 2009 and it just seemed to dampen my hair but not really moisturize it and actually left my hair a bit hard.  For whatever reason – I randomly decided to revisit it this summer and my hair loves it!  Last summer I primarily used s-curl, which I still like but after I ran out I switched to the Juicy Spritz.  The one issue I have with the S-curl moisturizer is the sticky buildup it seems to leave on my hair.  Because Bee Mine is natural and organic, buildup is non-existant.  It really does seem to "juice up" my hair and I'm so happy I decided to revisit this product.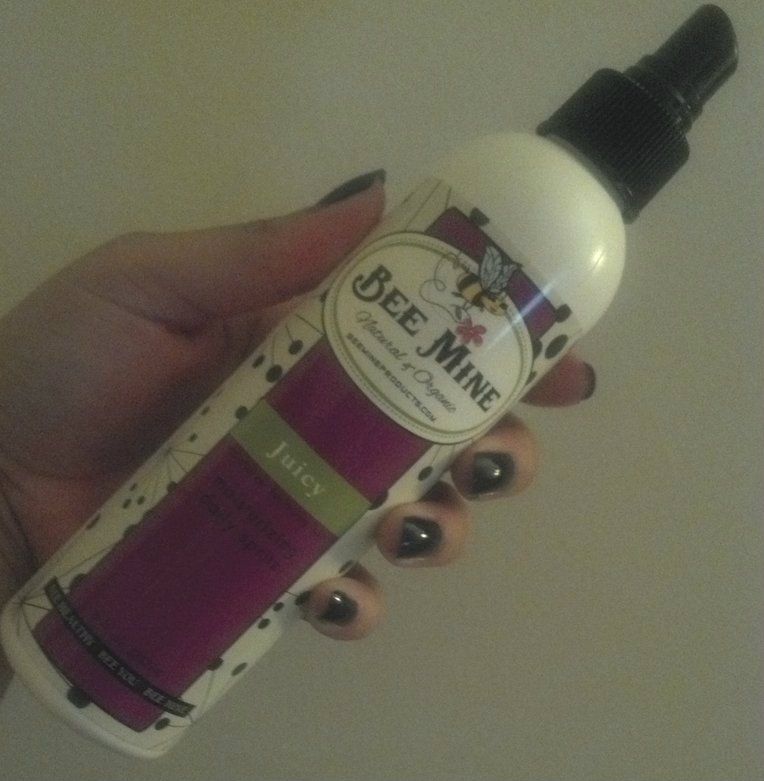 For the newbies to my hair journey *cheesing hard and waving hello like Forrest Gump!* in the summer while humidity levels are high, I love using glycerin based moisturizers over water-based.  Glycerin is a powerful humectant, attracting moisture which as it applies to hair is an awesome thing.  Also, in the summer, I am a bit lazier with my hair regimen because I can afford to be as my hair behaves beautifully in the warmer months.  So using a spray for quick and easy moisturizing is definitely a plus.
Now down to the nitty gritty details:
Bee Mine Juicy Spritz
– $12.97
Ingredients:  Organic Aloe Vera Juice, Herbal Infused Purified Water, Organic Coconut Oil, Organic Extra Virgin Olive Oil, Pure Glycerin, Ayurvedic Herbs, Select Herbs, Polysorbate 20, Essential oils of Tea Tree, Peppermint & Grapefruit, Vitamin E Tocopherol Oil, Fragrance, Paraben & Formaldehyde Free Preservative.
Product Description:
Moisturizing Daily Spritz is an excellent moisturizer for natural & relaxed hair. It is loaded with organic aloe vera juice, ayurvedic herbs and nourishing essential oils to stimulate the scalp and strengthen your tresses. Use daily as a mid day refresher bedtime moisturizing treatment.
My Uses:
I would say the description is pretty accurate – I use it daily to moisturize my hair and also as a refresher late afternoon/early evening when I first arrive home. Since I've been bunning my hair a lot lately, I also use it to dampen my hair so make slicking it up a bit easier as well.  Obviously there is a huge price difference between the Bee Mine Juicy Spritz and the S-curl. The buildup caused by S-curl can easily be solved by more frequent washing. Also, they are both produced by Black owned companies – if that is important to you as it is me (Luster's is Black owned & operated). Of course you know I love
Bee Mine Products
, so I am happy to know this product now works well for my hair.