My
last relaxer was on February 12
, making me 10 weeks post.  And in all honesty…my new growth has been more than manageable, its been great.  Aside from puffier roots than normal, I've had no issues washing, combing, rollersetting or styling my hair.  I've not noticed a significant amount of breakage or shedding.  In fact, I was really tempted to continue stretching, but for right now I am comfortable KNOWING that my hair responds well to stretches of 10-12 weeks.  I don't want to keep going until I actually do see problems, so instead of pushing the envelope I decided to stick with the plan (also one of my
2012 goals
) and relax at 11 weeks.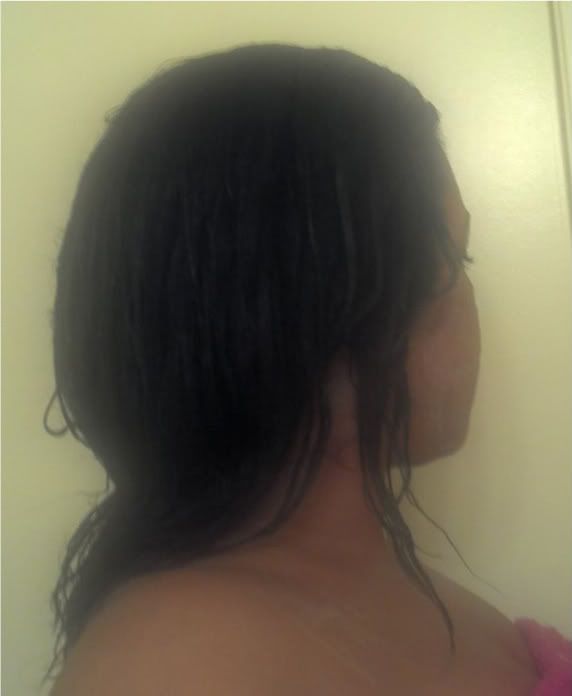 ApHogee Two Step Protein Treatment
So to prep, I followed my normal pre-relaxer routine:  prepoo with ceramide rich oil (hemp seed…using this up), clarify/chelate (Chi Clean Start), apply ApHogee 2-Step Protein Treatment followed by Bee Mine BeeUtiFul moisturizing deep conditioner (to further help restore moisture after the hard protein treatment) and Roux Porosity Control.  Again…this is pretty boring since its what I do before every relaxer but for new followers you may not know!  Hi there! *waves* I must say that my new dryer makes the protein treatment harden WAY faster than my old Gold N' Hot…I keep finding reasons to love this thing.  
Its important that I clean my hair thoroughly, strengthen and restore hair to its natural pH before relaxing to ensure the best results; These principles are what my pre-relaxer regimen is based upon.  I just received a Huetiful steamer to review, which I used to prepoo and deep condition.  I will do an initial review in about 4 weeks and a more thorough one in 6 months, so be on the lookout for that.  If there is a specific question you have about steaming, its benefits, or anything regarding the Huetiful model in particular please let me know and I will try my absolute best to have an answer for you.
I stopped using my
sulfur growth aid
this week also because I've heard that it can cause relaxers not to process the hair as straight and even cause reversion if you resume use too soon after relaxing.  Since this post is already pretty lengthy, I'll post my style separately.
These steps are vital for me to get the best relaxer results.  In the past I have been lazy and skipped the protein treatment before, thinking that my hair felt pretty good and that I'd do it after touching up.  It always ended badly with more breakage and shedding than necessary.  So now, I just resign myself to two long wash days back-to-back: the wash before the relaxer and the actual relaxer day.  Well that's all folks – thanks for reading!!!